So our colleague friends gave us more gifts yesterday, so I was super thrilled to see them all. One of them gave us these super cute socks and shoes - I even told my hubby that Celestia Daenerys now owns a pair of
pangbinyag
shoes... if she ever fits in them since it was for more than 6 months old.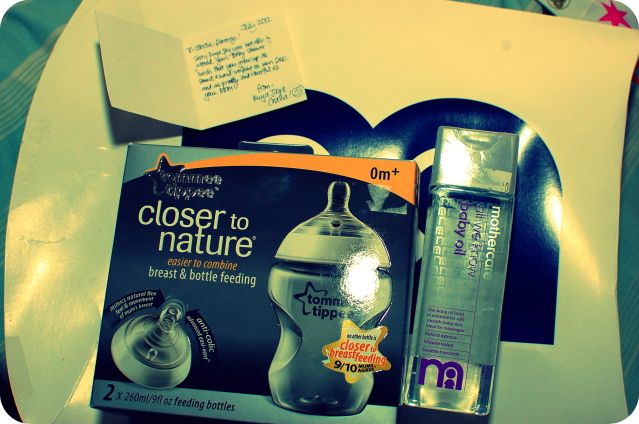 Another gave us these feeding bottles and baby oil - our baby's accessories and toiletries collection are almost complete! Except for the fact that I'll still continue to shop for our baby, not that I'm a compulsive buyer, it's just that every time I see something useful and on sale, who wouldn't want to buy them on the spot?
So what's up with me these days? Before, I was on total bedrest for my first and second trimester, so I wasn't able to cook much. But on my recent visit to our OB, she advised me that I can now move around and travel a little, so the first two things on my agenda was of course, shopping and cooking! Last night, since it was raining so hard, I loaded up on protein diet and craved for soup, so I made my own version of
sopas: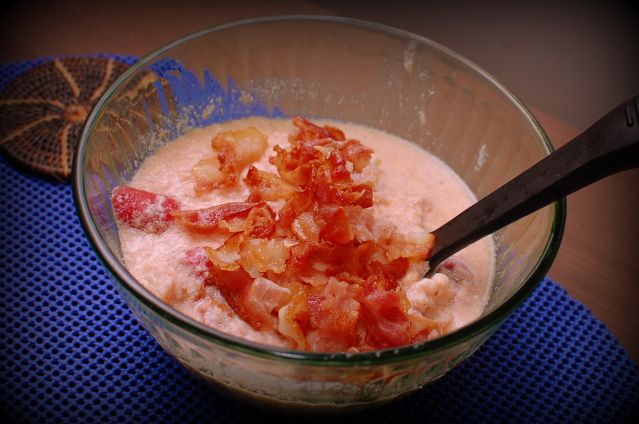 Here's the ingredients & recipe:
- hotdogs, cream dory fish fillet, bacon, fresh egg, fresh milk, chicken broth. salt and pepper (the only items I can find immediately from our cupboard, so yeah, the macaroni and fresh vegetables are missing)
- cut up the hotdogs, fish fillet and bacon in bits and fry them in a small amount of cooking oil and low fire; the fish should be well done (or whichever you prefer); set aside
- using the same pan for frying awhile ago, fill in the milk (you can add water if you wish to) and chicken broth (preferably the one where you boiled in some chicken, but you can also use Knorr cubes)
- add up the hotdogs, cream dory fish fillet and the one egg, beaten - stir them altogether
- add salt and pepper to taste
- turn off the stove and add the bacons on top (this way, bacon is still crispy and not soggy)
I know it may be weird, but I'm pregnant, so yeah, I do tons of klutzy stuff. But trust me, it's delicious!